1) Divergent Four Maxi Poster
It seems like Divergent the movie has been out for ages but I'm pretty sure it hasn't been that long... Anyway, I thought I'd kick off this month's fandom confectionery with a poster of Four which is 61 x 91.5cm.
I'll be honest, I haven't properly watched Doctor Who before. I've watched the odd episode here and there, but I haven't kept up to date with the series. But I saw this on Forbidden Planet and I had to include it for the people who love Doctor Who. I mean, who wouldn't want to get their bubble bath out of a Dalek?
3) Fangirl by Rainbow Rowell T-Shirt
Fangirl has been a book that I really want to read along with the rest of Rainbow Rowell's books. So, I though I would throw this t-shirt in. The quote reads, "I'm not really a book person." "That might be the most idiotic thing you've ever said to me." I really, really like this top and I haven't even read the book yet!
4) Nintendo Zelda Skyward Sword MB Logo Messenger Bag
Just another thing from Forbidden Planet. I know one or two people that really love Zelda and I've seen it all across my dashboard on tumblr. If you're one of the very many Zelda fans what better way to store everything whilst on the go than in a Zelda messenger bag?
"I don't shave for Sherlock Holmes." If you've watched season 3 of Sherlock you might just be a fan of this mug. I love it! If I used mugs more often then I would probably end up getting this one but I don't. It's a handmade ceramic mug, for any Sherlock lovers.
Buy - Shop is currently on holiday but will be back
In at number six is a Marvel poster that has the comic book covers of the Marvel world! The poster is 61 x 91 cm. You can get the poster framed on the site but it does cost quite a bit more. But here you have it!
7) Finding Nemo Rubber Bracelet.
This has to be my favourite thing of the month because I love Finding Nemo. It's a rubber bracelet which has "Fish are friends, not food." on the inside. And on the other side of the bracelet is a picture of Marlin and Dory hugging each other after seeing Bruce.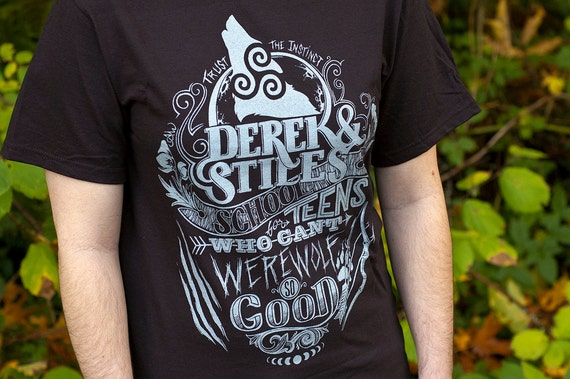 The top says, "Derek and Stiles School for Teens Who Can't Werewolf So Good." I've been in two minds about watching Teen Wolf and I'm still not sure yet but I saw this top and thought that it was absolutely gorgeous so I had to add it on to the list.
9) Harry Potter Bundle Kit
So, this little pack comes with: a Marauder's Map, a Diagon Alley Map, a Yule Ball invitation/programme, a Platform 9 and 3/4 Hogwarts Express train ticket, and a Triple Decker Knight Bus ticket. If you love Harry Potter, these would be great to stick around your room or if you know anyone who loves Harry Potter, you could give these as a gift. Perfect proof that you are in fact a wizard.
We've had so many teasers for Mockingjay around and about lately that I thought it would be fitting to add something from the Hunger Games. It's a print that has Rue's lullaby on it and you can get it in a few different colours. I am completely not responsible for any feels!
*Prices may change since some of these products are on scale or have been taken off of American sites where I have just converted the price. These prices do not include postage and package.